Are you a female STEMM researcher? Do you want to join top women scientists as they take science to everyday people on the streets?
We are excited to announce that the call for speakers to take part in Soapbox Science's 2019 events is NOW OPEN! 
Are you a woman who works in science and who is passionate about your research? Are you eager to talk to the general public about your work in a fun, informal setting?  If so, then Soapbox Science needs YOU! We are looking for scientists in all areas of STEMM, from PhD students to Professors, and from entry-level researchers to entrepreneurs, to take part in this grassroots science outreach project.
What is Soapbox Science?
Soapbox Science is a novel public outreach platform for promoting women scientists and the science they do. Our events around the world transform public areas into an arena for public learning and scientific debate. With Soapbox Science, we want to make sure that everyone has the opportunity to enjoy, learn from, heckle, question, probe, interact with and be inspired by some of our leading scientists. No middle man, no PowerPoint slide, no amphitheatre – just remarkable women in science who are there to amaze with their latest discoveries, and to answer the science questions the public have been burning to ask.
Why should you apply to be a Soapbox Science speaker?
Help us improve the visibility of women in science
Make valuable connections with other scientists
Engage with people who might not otherwise encounter science
Publicise your work through blogs and other media opportunities
.
What other benefits will you gain from taking part?
Training at one of our bespoke Soapbox Science workshops
Chances to meet other fantastic women in science and join our growing Soapbox Science Alumni community of over 1000 inspirational speakers
Join the conversation about equality in science and highlight your ideas of how best to increase the visibility of women in science
Soapbox Science will be running in the following cities in 2019: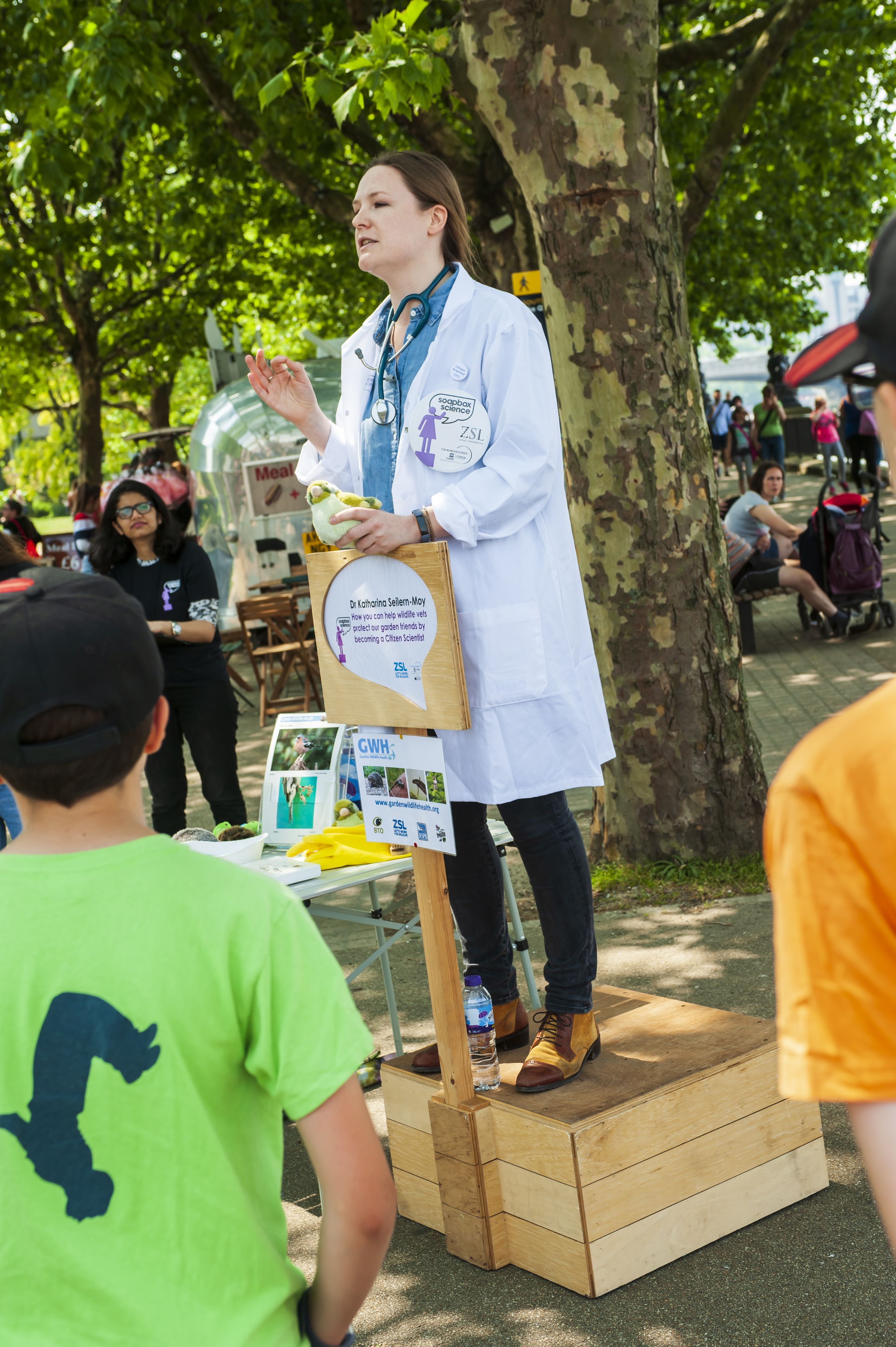 Argentina:
Tucumán- September
Australia:
Gold Coast- 17th August
Sydney- 10th August
Brazil:
Rio de Janeiro- 14th July
Belgium:
Brussels- 29th June
Canada:
Calgary- 1st June
Halifax- July
Ottawa- 14th September
Toronto- September
Waterloo- 9th June
Windsor- 22nd September
Germany:
Berlin- 22nd June
Munich- 1st June
Ghana:
Accra- 25th May
Ireland:
Dublin- 30th June
Cork- June
Galway- 29th June
Nigeria:
Lagos- 22nd August & 23rd November
South Africa:
Cape Town- September
Sweden:
Umeå- 18th May
Uppsala- May
Tanzania:
Arusha- 8th August
UK:
Aberdeen- May & September
Belfast- date tbc
Brighton- 1st June
Bristol- 20th July
Canterbury- 15th June
Cardiff- 1st June
Edinburgh- 8th June
Exeter- 29th June
Leicester- 1st June
London- 25th May
Milton Keynes- 29th June
Newcastle- 15th June
Norwich- date tbc
Plymouth- 1st June
Reading- 8th June
Sheffield- June/July
Stoke-on-Trent- 6th July
Swansea- 22nd June
York- June
USA:
Boulder- 7th April
Chicago- 13th July
Soapbox Science uses an inclusive definition of "woman" and "female" and we welcome applications from trans women, genderqueer women, and non-binary people who for the purpose of this event feel comfortable being female-identified.
The deadline for applications is 01/03/19 at 11am GMT.
Have we convinced you? Apply for one of our events here